All summer long we have been talking with Lili on what "sport" she wants to do this school year. I already have her signed up for soccer (because I love it and hope she does too secretly), but the big discussion was whether she would dance or do gymnastics. We started her in gymnastics when she was about 18 months old.  Being our first, I heard that gymnastics was great for kids to help with their coordination and listening skills – two things that I think are very much needed for kiddos.  Then when she was three (I think?) we enrolled her in Dance.  Again, she LOVED it.  And I loved it because of those adorable outfits and cute little moves.  The time came this year and she was apprehensive about dance and kept bringing up gymnastics again.  We have been talking about this for about 4 months now.
Mike and I want our kids to experience things before deciding what they want to do.  We are not thinking we will be a multi-sport for a child family…at least that's what we are going with now.  It's expensive and we want our kids to focus.  Also, we don't want to push them in one direction or another. But what do I know…
The decision has been made.  Two distinct things happened which helped me, as a type a mom, figure out what it was that she really wanted.  I like to have precise answers from God like lightening bolts falling from the sky.  Sometimes I get those answers, and other times I don't….or at least I don't see/hear what He is telling me.
The first lightening bolt.  I asked why she wanted to do gymnastics and not dance.  Keep in mind, this was a couple weeks in to the conversation getting NO where.  "Mom, it just looks fun."  Ok, ok…(then I'm crying), I get it.  She wants to have fun.  Let the 6 year old have FUN mom!
The second lightening bolt.  I asked what she liked about dance and what she liked about gymnastics.  Her answer on gymnastics "Mom, I just really want to be like the big girls.  They are up on the bars and go from one bar to the next.  I think I can do that, I know I can do that.  I just want to learn."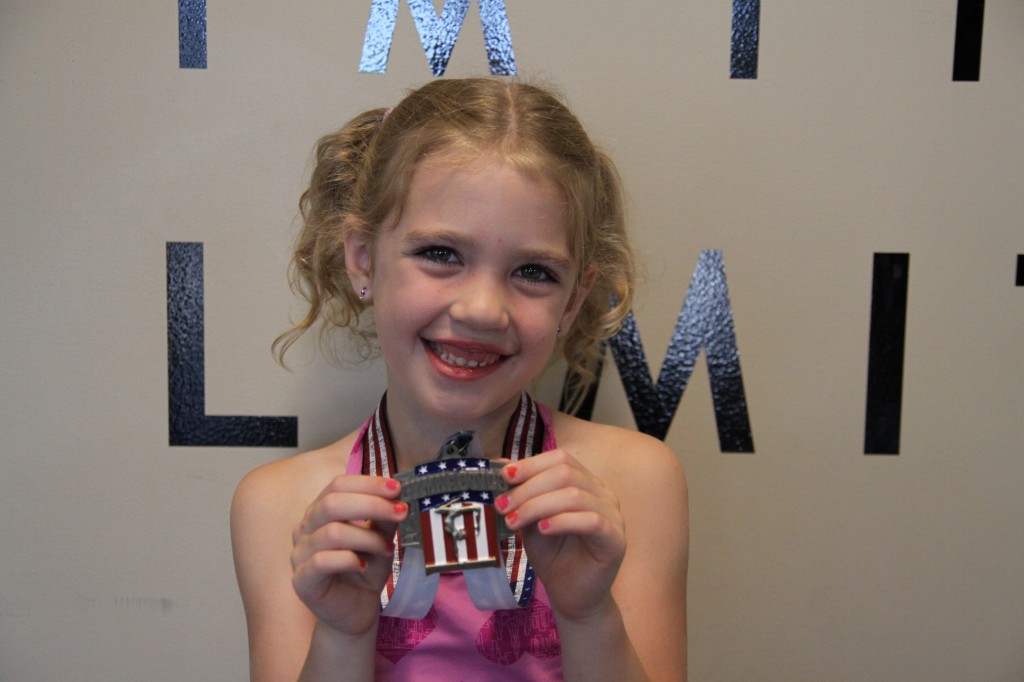 Ok, Ok….I definitely get it.  We are in the process of signing her up now for Tiny Team – which is the calm before the storm I hear.  Wish us luck!  And pray for her safety!! 🙂
I have one very happy girl.  But no worries, Adalynn is still dancing. Can't give it up yet completely LOL!