Well not physically chased, but none the less…chased.  Every time I go for a run, there are dogs barking everywhere.  I am so on edge during my runs that I feel the snapping of a twig makes me thing a huge Rottweiler is on my heels ready to take my leg off.  But every time I turn around, it's really just me stepping on something to make the noise.
Apparently I have good reason to be thinking about dog bites, because no joke, I received 3 emails today talking about this exact thing.  Humph.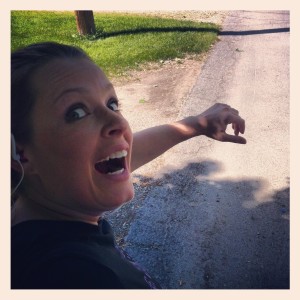 Another thing that puts me on edge, bikers coming up behind me without notice that go flying by.
Side note – IF YOU ARE COMING UP ON SOMEONE GOING SLOWER THAN YOU, IT'S A COURTESY TO LET THEM KNOW YOU ARE THERE.  Or else you may get mace in your face people.  I always let people know when I'm coming up on them – especially in my hood.
There have been multiple times this has happened to me.  Some biker comes up from behind and scares the living day light out of me.  I practically piss my pants – no joke (I mean hey, I have had three babies to holding it is a tad bit harder these days).  If I wore my heart rate monitor that I had (a whole other conversation for another day), there would be a huge spike in my heart rate.  I know there would because I almost pass out from fear that someone is coming from behind and is going to stab me.  Like I am that big of a deal, right?  Anyways…
Back to the dog.  There are dogs all over my routes.  I try to know what houses have dogs and what ones don't.  And for those that know me, yah I am a stalker and you know that I KNOW what houses have dogs. They don't call me "neighborhood watch" for nothing.  I have earned that title.
I haven't been bit by a dog, and I hope to only be bit by a dog in my head.  Never in reality.  But nonetheless…I think about them one every. single. run.
Are you a runner?  Have you been bit?  Do you have the same fear as I do or am I the only paranoid runner on the roads these days?