Today was epic. It's the first day of summer break and we started it with a bang! Or should I say a splash?
The girls started swimming lessons. And not the coddle, lovey dovey kind. The kind from an instructor know as "The Swim Nazi!" I'll be honest, I was terrified and anxious at the thought of these lessons, but all in all? My nerves were just that. Nerves. It wasn't NEAR as bad as I had imagined.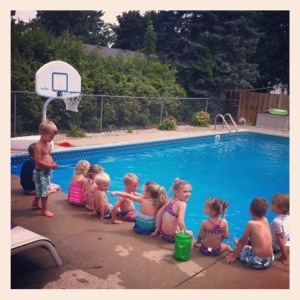 Here they sit, waiting for the unknown. Many of whom screamed at the first stroke once they knew what was going on. I was joking with one of the other moms saying, "this isn't a home based business she can keep to herself!" LOL! Some kids were utterly terrified and screamed helplessly as if it would save them from doing another stroke. Others screamed for attention in hopes that would help. All in all, no one was hurt and no one drowned.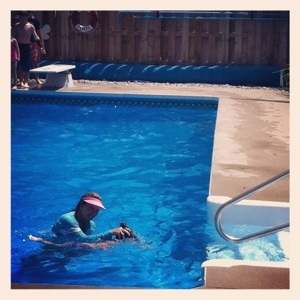 Lili was too far away for me to snap a pic with my smartphone. But she was there swimming away and loving it! And she left me this sweet little note…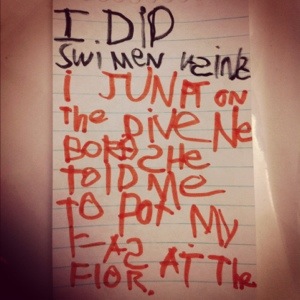 Translation:
I did swimming lessons. I jumped on the diving board. She told me to point my face at the floor.
Adorable!